Who We Are
BioCytics, meaning applications of living cells, is a privately-held biotechnology company located in Huntersville, North Carolina. BioCytics is clinically-incubated by Carolina BioOncology Institute Cancer Research Clinic. Our mission is to research and develop novel cellular therapies for diseases and to accelerate personalized medicine to market.
What We Do
BioCytics and our highly competent scientists, cell processing specialists, and clinical development team offer:
Biospecimen* Sourcing (healthy donors, cancer patients and convalescent COVID-19 patients)
Contract Preclinical Cellular Manufacturing Services
Instrument and Reagent Comparison and Validation Services
Clinical Trial Development and Services
Clinical Lab Diagnostic Services
Our History
BioCytics was founded in 2005 by John Powderly MD, CPI, as a multi-dimensional biotech company to develop a Tissue Bank, Human Applications Laboratory, and BioInformatics & Data Mining group. The BioCytics team has historically focused on human blood product sourcing and banking, adoptive cell therapy research & development, genetic testing & drug screening, and circulating tumor cell (CTC) profiling. Currently, BioCytics is performing IND-enabling studies for multiple proprietary autologous cancer cell therapy products and has sponsored the clinical trial BioCytics 0001 since 2007.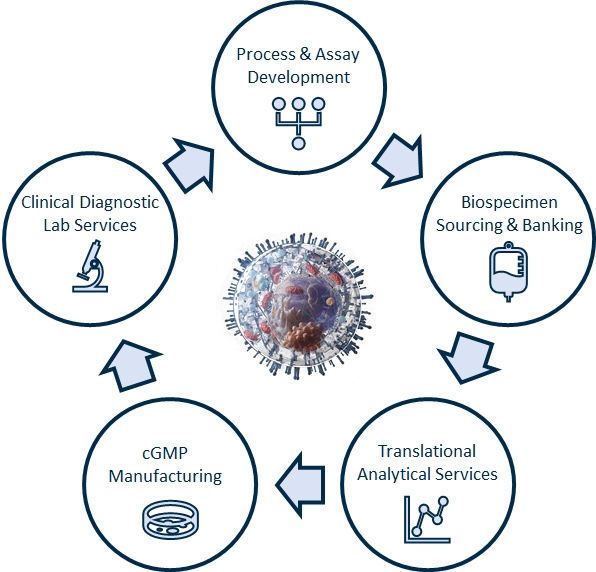 *All biospecimens are obtained with patient informed consent under Institutional Review Board (IRB) approval and are currently for Research Use Only (RUO).